Kutna Hora and Sedlec: the Ossuary (bone church) and a beautiful cathedral in a medieval Czech town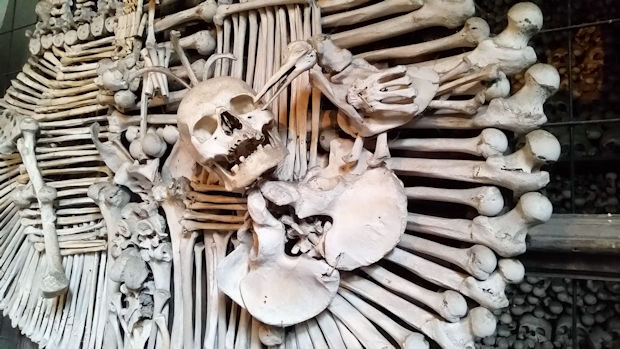 Duration: Approximately 7 hours. Starting time is usually 9:30 AM. The tour is available on any day throughout the year.
Aim: To see the unique bone church (Ossuary) - and to get to know the town of Kutna Hora a bit closer.
Focus: The history of the strange Ossuary (bone church) in Kutna Hora, and the wonders of one of the most important Czech towns through the Middle Ages and the Renaissance. Also the chance of enjoying beautiful landscapes and visiting a Czech village with a brewery.
Transportation: By car and by foot.
Meeting point: Your address in Prague (if accessible by car)
Food/drinks: Lunch at a restaurant with Medievall theme (not included). If the guests want it, also a beer at the Hubertus Brewery in the Kacov village.
Group size: 1-6 persons
Price: a total of Czk. 6.000,- (€ 240,- or $ 275,-) for the whole group. Surcharge: Entrance at the Ossuary and the Saint Barbara Cathedral: approximately Czk. 250,- (€ 10,- or $ 12,-) per person.
You can enjoy this on your day trip to Kutna Hora and the Bone Church:
Kutna Hora used to be an extremely influential town in Bohemia because of rich silver mines – and the right to make coins.
Before visiting the centre of the beautiful medieval town, we'll see the bizarre and interesting Ossuary, a church decorated with the bones from approximately 40.000 people who mainly died back in the fourteenth and fifteenth centuries. Inside you'll see a chandelier made of every single bone from the human body, "bells" of skulls, a coat of arms and other strange decorations.
Then we'll take the short drive to the centre of Kutna Hora. We park close to the marvellous Saint Barbara's Cathedral, which we'll visit. Construction began in 1388, but because work on the church was interrupted several times, it was not completed until 1905, and the church is one of the most beautiful examples of gothic architecture in the Czech Republic. After having visited the church we'll take a stroll over cobble stoned streets with fantastic views towards a very charming restaurant with a medieval atmosphere, where we'll have lunch. The food is good and fairly priced (not included), and you can even choose their special "alchemist" menu including a dessert decorated with 23-carat gold foil and not nearly as expensive as you would expect.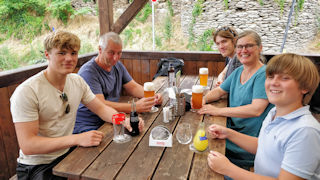 After lunch we can have a look around the charming streets of Kutna Hora – or we can make a detour and drive through charming hilly Czech landscapes to the village of Kacov, beautifully located next to the Sazava river – and enjoy a really good beer in a small pub which is part of the local brewery, Pivovar Hubertus.