4 Microbreweries and 1 dinner
Duration: approximately 5-6 hours
Aim: To learn about Czech beer and to taste it, followed by a delicious meal.
Focus: Learn about Czech brewing techniques and what's special about the Czech beer culture. Learn to understand the degrees (for instance 12º) in menus. Have conversations about whatever you, the guests, find interesting to know. Please note that this is not a pub crawl, although there's the possibility of tasting a lot of different beers.
Transportation: by foot and public transport. Ticket not included in the price, I can help you buy the ticket.
Meeting point: The tram stops at I P Pavlova.
Food/drinks: Beer tasting at 4 different really good microbreweries. At the last stop you can have dinner as well. If you're peckish during the day, all the microbreweries have nice snacks.
Group size: 1-8 persons
Price: a total of Czk. 5.000,- (€ 200,- or $ 230,-) for the whole group. Beer and food not included. Expect to spend approximately Czk. 6-800,- (€ 24-32,-) per person, depending on your thirst and appetite.
You can enjoy this during the tour of 4 microbreweries ans 1 dinner: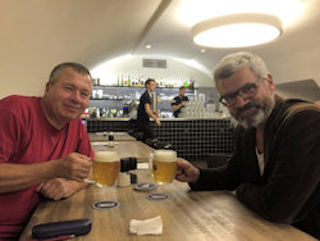 The theme of this tour is showing the guests some of the excellent and cheap microbreweries in Prague – off the beaten path. We'll taste quite a few beers during the day, but it is not a pub crawl
There are several goals of the tour:
tasting good, handcrafted beer, brewed according to the famous Czech brewing traditions

getting information about how beer is brewed in The Czech Republic – and also to understand the degrees often seen in Czech menus (for instance 11º or 12º)

having an good meal

having conversations about Prague and the Czech Republic in general and sharing advice about how to get the most out of your stay here.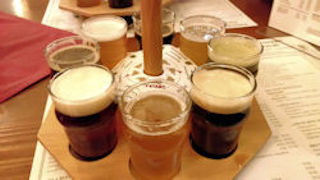 This is a very relaxed and informal tour - but the curious guest will of course also be able to get a lot of information in general, as we have plenty of time during the day to talk, while we taste the many different beers. Usually we cover a lot of basic torist information, but also interesting themes about Czech history or everyday life in Prague. That's all up to you, the guest.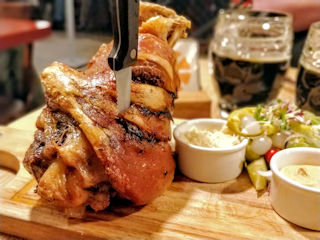 We meet at the public traffic hub I. P. Pavlova, and we'll go by tram to the first microbrewery – some tram tops away. From here we'll work our way back towards the city centre through 2 more breweries, until we finally go to the last and fourth microbrewery: a beatiful boat anchored on the river in Prague 1, where the guests can order a dinner of their choice. The food is really good, and it is being served at surprisingly fair prices.
The price of the tour does not include:
tram tickets.