Restaurants in Prague - my recommendations
Read - eat - enjoy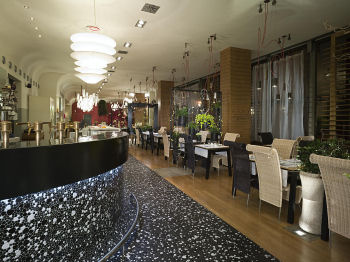 It is my experience that visitors to Prague are very interested in hearing about
nice restaurants
to visit while they're here. And living here in Prague makes it interesting to find the spots which are good value for money.On this page I'll make my personal
recommendations to restaurants
I like to visit myself - and I'll do my best to explain why. The price ranges will be different, but my main objective will be to point out places, where I think you'll get your money's worth and be happy.Please note that even though I have become acquainted with a couple of restaurant owners over time - because I come in the restaurants a lot -
nobody can pay for a recommendation
. This list will be growing over time. Please be patient - and maybe bookmark the page and get back to see if I have had time to update it.
Each restaurant page will open in a new window.
My favourite restaurants:
U Emy Destinnove
Katerinska 7, Praha 2 - phone (+420) 224 918 425

Open Monday to Friday 11.30-23.00, Saturday 12.00-23.30 - Sundays closed (unless you have a special event planned)

Cosy and friendly restaurant, tugged away in the small street Katerinska. But easy enough to find as it is close to I.P. Pavlova metro and trams. And worth the walk, as it is a splendid place - nothing less!