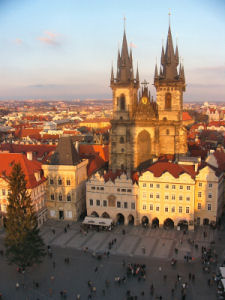 For a direct booking of one or more of the apartments at www.praha-expert.eu, simply fill out this booking form after having checked if availability and rates are convenient for you. I'll then get back to you as soon as possible with your booking confirmation and all the practical information you'll need to enjoy your stay in wonderful Prague to the fullest.
When checking the selection of apartments you'll also find the link to a booking form with each apartment - so maybe that's even an easier way to get there.
Of course you are also more than welcome to send an e-mail or give me a call. Phone numbers are listed at the top of this page and of course also in the contact section of the website. For American clients: please consider the time difference between the US and Europe. Here in Prague we use GMT +1. But you can still call at any time, if I am not able to answer right away just leave a message and I'll get back to you as soon as possible, usually even during weekends and holidays.
If none of the apartments described on this website is available on your requested dates - or if they don't meet your needs, please let me know via e-mail or a phone call. I'll then be able to suggest other apartments through my contacts in Prague. Presently there are around 150 apartments available through the channels of www.praha-expert.eu
After having received and accepted the booking confirmation I ask you to pay a 15% deposit of the rent for the apartment in order to make sure that you'll want to use the services. The deposit is non-refundable. The rest of the rent and other services like transfers etc. are paid in cash upon arrival in Prague. Payment is accepted in all major currencies including of course Euro, British Pounds, US Dollars, Canadian Dollars, and Australian Dollars. The exchange rate of the day of arrival will be used when payment is in another currency than Euro.
Payment of deposit goes through the secure server of PayPal. It is not necessary for you to have a Paypal account in order to pay, you can simply use your credit card.
The rate includes all taxes, heating, electricity, gas, water, linens and cleaning of the apartment. There are no hidden extras. If you cancel your booking giving less than 10 days notice, cancellation charges of 50% of the accommodation charge apply. In the event of non-arrival without any notice being given, you will be responsible for the full value of the accommodation charge. In the event of you being unable to travel due to illness or flight disruption, most travel insurance policies will provide cover, but it is worthwhile checking your insurance policy. It is a condition of booking that you accept this agreement.
Check out time from the apartments is 11.00hrs, but it may be possible to remain in the apartment later without additional cost if there are no new clients arriving the same day. If that is not possible and you have a late flight or train to catch, your luggage can be securely stored until your departure from Prague.