Apartments Prague - Praha Expert offers cheap and nice Apartments in Prague
We offer nice

apartments in Prague

- with good prices and a friendly and reliable service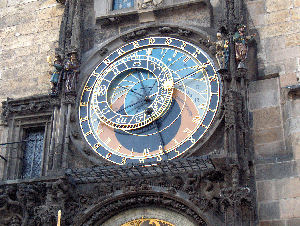 Before planning your next holiday to Prague, make sure to check our selection of nice and price friendly Apartments in Prague. We can accommodate between 1 and 12 persons in one of our own beautiful apartments presented in the menu to the left.
And even if they don't meet your demands, don't give up. Just send an e-mail telling us about your needs, and we'll find something for you anyway. Through our contacts in Prague we can get in touch with approximately 170 holiday apartments. That's more flexibility than you'll find anywhere else. So there really IS one for every need. Or several, if you come in a larger group.
Why choose an apartment Prague instead of a hotel?
There are several reasons. Let's just go through the most important ones:
The price. Although Prague really is a cheap holiday destination, accommodation is not as cheap as you would expect. And especially if you would like to stay in the city centre, hotel rooms are quite expensive. Our apartments are usually the cheaper option, especially for the demanding traveller. Check them out in the menu to the left. Prices start at 37,50 Euros for 2 persons.
Space. Even though you maybe only plan to use your accommodation for sleeping and showering, you'll soon realize how nice it is to have some space around you. To have some real furniture for sitting and chatting (not just a hotel bed). And to have decent room for your clothes, your shopping - and yourself! In our Apartments in Prague you'll find sufficiant space - just check them in the menu to the left.
Comfort. Of course we provide you with everything you need on your holiday such as linen, towels, cleaning service, television etc. And most of our Apartments in Prague also have free WiFi internet access. Check the menu to see which apartment best meets your needs.
The facilities. Apartments Prague offer you the comfort of having a kitchen. And even though it is true that you can still eat a good and cheap meal in restaurants all over Prague, it is nice to have the choice, if you would like to cook. And of course it is also nice to be able to have your own supply of cold drinks, snacks, sandwiches - and warm beverages whenever you want. You even have the flexibility to eat breakfast whenever you want - and whatever you prefer to eat.
Privacy. You can come and go as you please, and you can of course have a visitor in your apartment. We try to be as flexiable as possible, and we're not looking over your shoulder all the time.
If you've always stayed in hotels on your holiday, now is the time to try something new. We're sure, you'll be more than happy. And if you're used to staying in holiday apartments, you already know what to do: Just check out our services and Apartments Prague in the menu to the left - and tell us how we can help you!
Vitame vas v Praze - Welcome in Prague!