Crystal Factory and Karlštejn village with beautiful gothic castle
Duration: Approximately 7 hours. Starting time is usually 9:30 AM. The tour is available Tuesdays, Wednesdays, Thursdays and Fridays from the beginning of March through October.
Aim: To learn how hand cut, mouth blown Czech crystal is being made - and to see a famous gothic castle.
Focus: The production and tradition of hand crafted Czech crystal. The chance to buy products of a very high quality at low prices, with absolutely no pressure at all to buy anything. To experience a unique and quaint microbrewery for lunch. To see stunning Bohemian landscapes. Finally to know the history of and see the amazing Karlštejn castle.
Transportation: By car, by horse-drawn carriage and by foot.
Meeting point: Your address in Prague (if accessible by car)
Food/drinks: Lunch at a very unique microbrewery with low prices for food and drink (not included). If the guests want it, also a coffee break in the Karlštejn village.
Group size: 1-6 persons
Price: a total of Czk. 6.000,- (€ 240,- or $ 275,-) for the whole group. Surcharge: Entrance at the crystal factory and transport by horse-drawm carriage: approximately Czk. 250,- (€ 10,- or $ 12,- per person).
You can enjoy this on the tour

to a Czech

Crystal Factory and Karlštejn village with beautiful gothic castle

: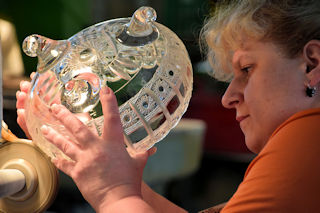 We'll drive through some beautiful landscapes in western Bohemia to the little village Nižbor, where we'll visit one of the best known glass/crystal works in the Czech Republic, Rückl. I'll give an introduction to the whole process of glass making before we enter the factory and see, how skilled craftsmen blow the glass according to the old traditions. We'll also see how crystal is cut according to approximately 6.000 different designs, unique for this specific factory. You'll be able to follow the work closely, and of course you're welcome to take photos of everything (but without flash). There will be only us in the tour group; I am one of the few guides allowed to make the tour just for my own special guests. After the tour of the factory you can visit the factory's onsite shop with a better quality and lower prices than most crystal shops in Prague. There will be absolutely no pressure or obligation to buy anything.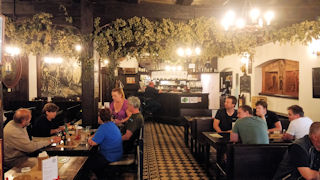 Before heading towards Karlštejn, we make a break at a unique microbrewery in the town of Beroun. We'll have a surprisingly cheap lunch and you can sample the hand crafted beer (or soft drinks, of course). The beer is only served here, and you can buy some of it "to go" at very low prices (app. 2-3 Euros for 1½ liter).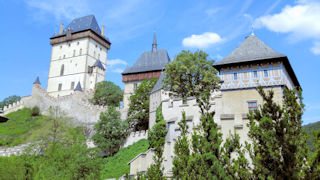 We continue by car through beautiful countryside sceneries and park below the village of Karlštejn. We can walk through the village towards the marvelous castle (quite steep), or we can go by a horse-drawn carriage (Czk. 150 per person) to the top and walk back down again. We won't do a tour inside the castle, that part is not too interesting, but we'll enjoy the beautiful buildings from the outside and the great views of the area. I know the "sweet spots", where you can get the best photos of the castle and the village. Of course I'll tell you about the history of the castle, which dates back to 1348 and is one of the best known landmarks in the Czech Republic. The village of Karlštejn has a lovely atmosphere with charming antique shops and souvenir shops cheaper than in Prague and also cozy restaurants and cafés, so we'll not rush but enjoy the afternoon before heading back to Prague.