A walk through stunning nature in "Bohemian Switzerland" (České Švýcarsko) plus a castle and a brewery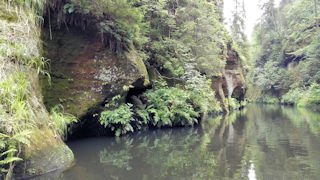 Duration: Approximately 8-10 hours. Starting time is usually 9:00 AM. The tour is available on any day throughout the year.
Aim: To visit one of the most beautiful places in the Czech Republic, to see an old castle and to sample beer at a microbrewery.
Focus: Czech nature, 80 miilion years old landscapes and an untouched forest, a trip by barge over a dam, an ancient castle on our way back and also a visit a really good brewery in a typical Czech town next to the Elbe River.
Transportation: By car and by foot.
Meeting point: Your address in Prague (if accessible by car)
Food/drinks: Lunch in Hřensko, cheap. A beer (or two) to finish the tour before driving home. Food and drinks are not included.
Group size: 1-6 persons
Price: a total of Czk. 7.000,- (€ 280,- or $ 320,-) for the whole group. Surcharge: 2 trips by barge: Czk. 200,- (€ 8,- or $ 10,-) per person. Possibly also entrance fee to the Střekov castle if time allows: Czk. 100,- (€ 4,- or $ 5,-) per person.
This is what you can enjoy on the day trip to Behemian Switzerland + a castle and a brewery:
Bohemian Switzerland (Czech: České Švýcarsko), also known as Czech Switzerland, is a picturesque region in the north-western Czech Republic. It lies on the Czech side of the Elbe Sandstone Mountains north of Děčín on both sides of the Elbe River. It extends eastward into the Lusatian Mountains and westward into the Ore Mountains.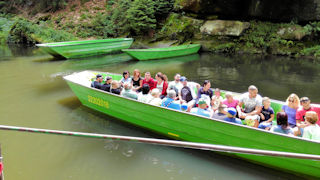 We depart towards the village of Hřensko in "Bohemian Switzerland". From here we take a leisurely walk along a small river through primeval forest. The walk is a couple of kilometres, and there are no steep climbs. It is very relaxed. We reach a dam where we buy a ticket (not included) for a river barge that will take us through the forest to a peninsula. Here we can buy refreshments and also some snacks, if any of the guests are peckish. If the guests wish, we can walk on a bit further and then back to the peninsula, from where we'll take the barge back and walk back to the village. The area is unbelievably beautiful. Under this text you can see a video I made while being on board the barge. Before driving towards Prague again, we'll have lunch in Hřensko, where there are several Czech restaurants with fair prices (not included).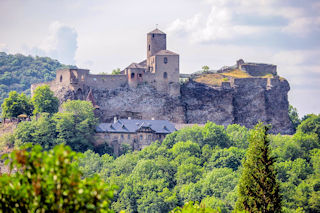 After lunch we head towards Prague. But we'll make a couple of stops in and near the town Ústí nad Labem. The first stop will be at the medieval castle Střekov, dating back to the first half of the fourteenth century. It lies strategically on a cliff overlooking the Elbe, so it was a strong fortress until 1757, where it was bombed by general Laudon. Richard Wagner found inspiration to Tannhäuser at Střekov in 1842. If the weather permits, we can sit outside next to the wonderful views and enjoy a cup of coffee (not included).
Then we move on to the centre of Ústí nad Labem. Our goal is the lovely micro-brewery Pivovar Na Rychtě. You can taste a few of the wonderful craft beers before we drive back to Prague.