Prague self catering apartments - by Praha Expert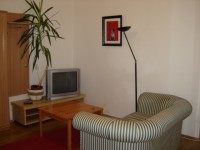 Before we go on and on about all the advantages, we would like to recommend you to take a moment to browse through our list of apartments in the menu to the left. You'll see for yourself that you don't have to look any further.
The advantages of renting a self catering holiday apartment in Prague:
Especially families going on holiday have been more and more focusing on the advantages during the recent few years. But of course couples, groups, business travellers and everybody else can enjoy all the benefits as well. All you need to do is browse through our carefully selected list of Prague self catering apartments, and this is what you'll get:
You have the option of eating out or cooking your own meal. In Prague you'll literally find nice and cheap restaurants on every corner, and that'll give you great opportunities to taste the local cuisine. But should you fancy an even cheaper meal, you can prepare it in the privacy of your self catering holiday apartment. And maybe try out some local recipe by buying locally grown produce at the nearest super market - which by the way is cheap as well.
Even if you don't want to cook yourself but simply want to relax and enjoy your holiday, you'll soon discover how nice it is to have the kitchen facilities in your self catering apartment. Anytime you need a cold or hot drink, you can simply go to the kitchen and grab one. And you can keep a small stock of delicious snacks, should you feel peckish late at night or between meals
You can choose the accommodation which suits your needs best. We have studios suitable for 1-2 persons, and we have larger self catering apartments in Prague where groups of up to 12 people can choose to stay in one apartment, saving piles of money. And as some of our apartments are either in the same building or very close to each other, groups can benefit from staying in large, but still cheap holiday apartments. Check them out right away in the menu to the left!
You have a lot more space around you than if you stay in a hotel - and still at a lower price. Remember the last time you were in a hotel and a small group of maybe 4 people wanted to get together for a chat or a drink? In a hotel room this would probably have been an almost claustrophobic experience, some of you having to sit on the bed or stand up? In our centrally located and nicely furnished self catering apartments in Prague you can simply enjoy the comfort of having a living room, where you can relax together while planning the next day's exiting adventures. Need we mention how much a family with children would enjoy this? Or maybe 2 couples travelling together?
If you desire luxury, we have luxurious apartments as well, where you can enjoy yourself in peace and quiet - having the privacy of a self catering apartment which will make you relax even more on your holiday or business trip.
Privacy: Our apartments are located throughout the city in prime locations. Our Prague apartments can offer all the benefits of service expected from a hotel without experiencing the hustle and bustle from other guests and staff in the public areas of a hotel. When staying at our apartments you will enjoy all the privacy of staying at a private address in the heart of the city centre in Prague.
Flexibility: You can of course book our Prague self catering apartments for any period you desire. And once you are settled, you can come and go as you please at your leisure. The apartments open doors to endless opportunity: a place to lay your hat while enjoying the city; a place to live and work while travelling on business; a place to live and entertain when visiting family & friends; a base to call home when exploring the beautiful city of Prague.
Why choose Praha Expert when booking your self catering holiday home?
Because this is what we do and this is all we do - we take pride in being able to concentrate on making each guest feel welcome and safe during their stay in Prague. And of course you'll get these advantages as well - on top of saving money on your accommodation:
The rates include linnen, towels, cleaning, booking fees, energy and local taxes - there are absolutely no hidden extras
We'll meet you directly at the apartment upon arrival and greet you - you won't have to go anywhere else to pick up the keys
You'll only be in touch with one person while planning your trip. Here you'll get a personal, friendly and professionel service and of course answers to the questions you might have
You can get all the advice you need, about for instance restaurants, theatres, concerts, operas, clubs etc. We live in Prague and we love it here, so we know!
You can choose additional services such as transfers from and to the airport or railway station, a parking space for your car, a guided tour in the city, a private car with driver, foreign currency exchange etc. We can even provide you with a babysitter, should you need one.
Don't hesitate: choose which self catering apartment you prefer and book it right away using our booking form or by contacting us directly via e-mail or by phone (of course we also have English and American phone numbers to make it cheaper and even more easy for you - that's how we do things at Praha Expert)