Praha Expert's Prague accommodation - holiday apartments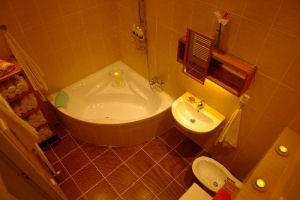 Visit wonderful Prague and stay in one of our comfortable, centrally located and affordable holiday apartments. Choose Praha Expert as your provider of Prague accommodation. Check out the menu to the left and browse through our offers – you certainly won't regret it!
Prague
a
ccommodation in
our
apartments is even cheaper than most hotels
There are several reasons for choosing one of our apartments in Prague as accommodation for your next stay – business or pleasure or both. You really should check our selection in the menu to the left.
You can choose a central and coveted location without being ripped off

You can have a lot of space around you. Much more space than in a hotel room – but choosing an apartment will still save you money. And the luxury of having more than one room is not just for VIPs in expensive hotel suites. You can have it if you want!

Just look at our Prague accommodation in the menu to the left!

You have the comfort of kitchen facilities. No matter if you want to cook or not, you'll soon see how handy that is. Instead of having the selection (and prices) of a hotel minibar you simply go shopping yourself for your absolute favourites – at a fraction of the price. You always have access to hot beverages, and you can make yourself a snack whenever you want. And all this while not spending a lot of money

. This is why you should choose to book your Prague accommodation right here at Praha Expert

Enjoy the privacy of staying door to door with normal people. No curfew, no nosy hotel porter, no set time for breakfast – simply just your own time and pace and the freedom of coming and going as you please. And of course you also save money if you choose Praha Expert's Prague accommodation.

Book a Prague holiday right now! We've made it easy for you. Just fill out the booking form, send an e-mail, give us a call – or even easier: push the button to the left, enter your number – and we'll call you back. That won't cost you anything!
Budget accommodation in Prague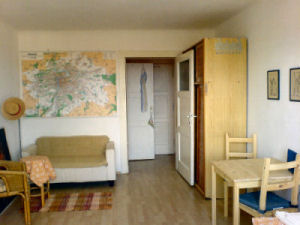 Not convinced yet? You didn't choose one of the apartments yet? Allow us to point at one of the specific apartments, Flora. Here you'll get a cosy holiday apartment at only 38 Euros per night for 2 persons and 43 Euros for 3 persons (if you stay for 4 nights). That's only 14 Euros per person per night with private bath, kitchen, a good location, a wonderful view and even free WiFi.
Last Minute
bookings
All our holiday apartments in Prague are described with exact prices and availability calendar. Check them to see what's available right now – even on a very short notice. Or send an e-mail and ask about Prague accommodation. Or give us a call. You can also just push the butten in the menu to the left, and we'll call you back.
Other services with your Prague
accommodation
Of course we'll be happy to take care of you all of the way. You can order a transfer fom the airport or railway stations. We can change your money for you when arriving, so you won't have to bother with that. Obviously we can set you up with a tour guide – and we can even provide a baby sitter, if you need one.
Just go ahead.

Look through our apartments

and

services

in the menu to the left. And start planning how you want to spend the money
which
you'll save on your accommodation. Prague is full of

nice places to go
,
and that's a lot more fun than choosing an expensive hotel!