Holiday rentals in Prague
- by Praha Expert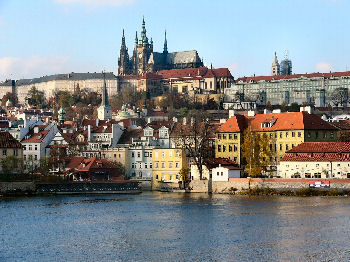 Holiday rentals in Prague may very well prove to be your chosen accommodation in the future, once you've stayed in one of Praha Expert's comfortable, centrally located, spacious and price friendly holiday apartments. Prague is one of the most exiting and beautiful cities in Europe, and of course you should enjoy your stay here as much as possible!
Please browse through the menu to the left - or read on if you are still not convinced.
Here you'll of course also find our other services, including safe and reliable airport transfers at reasonable prices.
Holiday rentals in Prague
Most people think "Hotel!" when they start planning their holiday. That's really a pity, because in our holiday rentals in Prague you'll have a lot of advantages which you won't find in the hotels. First of all, they are a budget friendly alternative without being less comfortable. Secondly, you'll have a lot of space around you, which will give you the advange of being able to relax and feel at home. A home away from home, in fact! No matter if you are travelling with a friend/partner, your camily or maybe a group of 2 or 3 couples, you'll discover how much more relaxing it is to have the extra space and facilities.
Try to remember the last time you stayed in a hotel room which was just a little too small. Where did you sit down in a small group of 3-4 people to have a chat and maybe a drink? Was it comfortable? Probably not. But in the Praha Expert holiday rentals in Prague you'll have the comfort of a living room with real furniture where you can sit down and enjoy each other's company. And if you like shopping while taking a city break, you'll also enjoy the extra space, so everything won't look like a mess right away.
Curious? Don't hesitate to contact Praha Expert right away!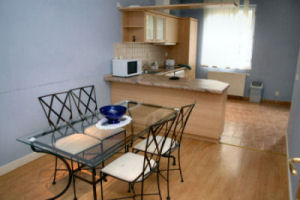 Furthermore, in our holiday rentals in Prague you'll also have the kitchen facilities. Maybe you like to cook, or maybe you want to be pampered and not cook at all while on holiday? But no matter what, you can still enjoy your cold drinks from the refridgerator, you can shop for snacks, and you can make yourself a nice hot beveridge whenever you feel like it. A lot of hotel rooms come with an expensive minibar with a choice of drinks you didn't make yourself. And most places it is frowned upon if you fill it up with your own preferred drinks. In our nice holiday rentals you can drink whatever you want, whenever you want. You can even invite your friends to an exiting tasting of some of the world famous Czech beers available everywhere in Prague. Or enjoy the cheap but delicious Czech "Champagne", Bohemia Sekt, which will only cost you around 5 Euros per bottle when you buy it in a normal shop instead of an expensive hotel minibar. In fact, grocery shopping is surpricingly cheap in the Czech Republic, and you might as well take advantage of that. You'll discover it is not extra work - it is just extra comfort to have a small stock of goodies available at all times.
H
oliday rentals in Prague offer comfort, privacy and security!
Some people like privacy, when they are on holiday. If you like going out at night, you may feel a little uncomfortable by disturbing or even waking up the night porter when you come back to sleep. In our nice holiday rentals in Prague that's not a problem. We'll make sure you have enough keys, and then you can come and go as you please. Worried about safety, then? Don't be! All of our holiday rentals are situated in buildings where the front doors are locked - and maybe even one more security door before you are outside the apartment, which of course you can lock as well. So absolutely no need to worry. And most of our holiday rentals of course come with a small safe as well.
Should you choose to invite a guest shile staying in our comfortable and spacious holiday rentals in Prague that's also no problem. You can even invite him or her to sleep over if that is more convenient. Only if there's an extra person staying there all the time, we need to know. Otherwise we simply just respect your right to privacy!
There are of course pleanty of more reasons to upgrade your comfort while saving money - but please take your time to browse through the menu to the left and have a look on our nice apartments and full range of services, and we're sure you'll be convinced!
Here are a couple of comments from satisfied guests who stayed in our holiday rentals Prague:
Just came back home after staying in one of Praha Expert's holiday apartments. Everything was exactly as promised, the airport transfer was on time and the driver very friendly. I even got help directly from the owner of the company, when I wasn't able to make "my" washing machine work - which was because I had made a mistake. Everything with a smile
Just like so many others of the reviewers I have found it to be a good idea to stay in an apartment in Prague instead of booking a hotel. For several reasons, actually:

It is usually a lot cheaper than a hotel, especially if you like to stay directly in the city center

You'll have a lot more space around you. This is particurlyli nice if you are staying for more than a day or two, and also if you like to do some shopping etc. You simply just have a more homely feeling.

You have the kitchen facilities of the apartment. Even if you don't want to cook a meal, you can still keep your drinks cold and your coffee hot and you can shop for a snack.

You can enjoy privacy and discretion, should you meet a friendly Czech person whom you would like to invite for a tete-a-tete

I have travelled to Prague very often, and I have not always been impressed by Czech service - also not by a couple of the agencies mentioned in the other posts. But I have found www.praha-expert.eu to be very friendly, reliable and service minded, and now I simply just book with them. They even have an American toll free phone number.
And now what are your options?
There is really no reason to hesitate. When you contact Praha Expert per telephone (English and American numbers as well) you'll be met with a friendly service in perfect English - which is not alwsys the case in Prague. And you can ask for a free offer, so you have an idea of which nice surroundings will be provided for you.
If you fiill out the booking form, we'll get back to you as soon as possible.
Should you prefer to send an email, that's an option as well.
And remember - we are here for you, before and during your stay!