Italska
Prague 2 - 2-8 persons
This is a very good quality 2 bedroom apartment located on the border of Prague 1 and Prague 2. Italska Apartment is only a 5 minute walk from Wenceslas Square close to the National Museum and State Opera House. The location allows easy access to the daytime tourist attractions and the city's rich and varied nightlife.
Italska is a loft conversion completed to a high standard in 2002. The apartment is about 100sq.m. in size and is of very good quality. The building has an elevator. The interior design has retained character by the inclusion of original exposed wooden beams. The main bedroom is within a lantern spire, the top of which rises about 7 metres above the bed.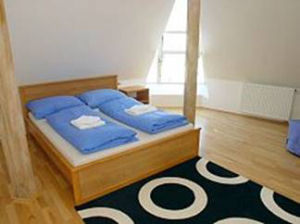 The accommodation consists of a hallway, two double bedrooms, living room with double sofa bed and 2 single convertible chair beds, which when used allows the apartment's maximum occupancy of 8 persons. There is a fully equipped kitchen area, bathroom with double sized bath and sitting ledge and WC. There is a second separate WC next to the living room. The kitchen is equipped with electric hob, oven, microwave, fridgefreezer, dishwasher, coffee maker, toaster and kettle. There is also an automatic washing machine, CD player and satellite TV with.
The apartment has free WiFi internet.
Rates (all rates are in Euro per night):
Middle Season (6/4-1/11 2010, 22/12-27/12 2010, 1/4-1/11 2011 - except when top rates apply)
1-2 pax:
108

,-
3 pax: 114,-
4 pax: 120,-
5 pax: 126,-
6 pax: 132,-
7 pax: 138,-
8 pax: 144,-
Low Season (1-11-21/12 2010, 3/1-31/3 2011, 1-11-21/12 2011):
1-2 pax:
80,-
3 pax:
86

,-
4 pax:
92,-
5 pax:
98,-
6 pax: 104,-
7 pax: 110,-
8 pax: 116,-
Top season (1-5/4 2010, 30/4-2/5 2010, 28/12 2010-2/1 2011):
1-4 pax: 187,-
5 pax: 206,-
6 pax: 225,-
7 pax: 238,-
8 pax: 250,-
During New Year Holiday Peak Season: (27/12-4/1)
1-8 pax: 259 (5 night minimum or 6 night stays),-
1-8 pax:
225
,(7 nights or longer)

During Sylvester, minimum booking is 5 nights